What's going on?
Why this page?
I started this page because most of the other the info/pictures on this website are of the clean type "end result" ones. What interest me personally is the craft and process behind a good result so I feel like sharing this with you. 
I like to give people the opportunity to have a realistic look at what I am working on, how it is to run a "one man" workshop and what kind of challenges I encounter. 
I prefer sharing over pretending so you'll likely see things that you wouldn't expect. Machine maintanance, tool making, furniture upgrades, travel, etc. 

Enjoy!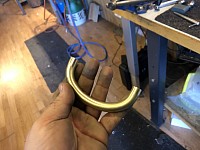 Tuning slide making for a brand new project! Traditional rotary trumpets in C foe oechestral playing. 
Antique Mouthpiece Restoration
Pity I don't have a "before" picture of this antique mouthpiece. It looks nice again!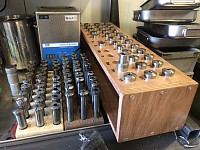 In preperation on the move
In preperation of the move in the end of the year I am making new collet organizers after work hours. I have quite some different machines with different style collets so I have some work to do.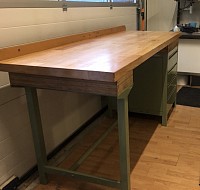 Found a new workbench that matches the style and (much more important) the quality of most of my other vintage industrial benches. My aim is to have a functional but also pretty new workshop after the big move in the end of this year. This bench weighs a ton (ask me how I know) and will be my new main bench after the move.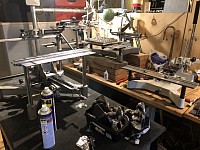 A new engraving machine
My love for manual machines is strong! I picked up another pantograph engraving machine. The other three machines are set up for dedicated jobs like bell engraving, rotary valve cap engraving and tube engraving. After a clean and maintanance (picture taken during all this) this "new" machine will be set up for a little deeper engraving in mouthpieces, receivers and valve sections. In the new workshop I need a bigger engraving space!
Last few touches
The last clean up work on a very nice, fully custom RBM trumpet with a one piece 72 style goldbrass bell and new (on request) valve cap configuration. Pickup was today!
A Modular Plus trumpet bell
I've been working on this bell for three days and it's now ready to be polished and used for the next trumpet om the waiting list!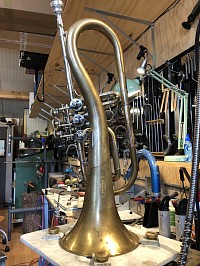 Making design decisions 
I've been working on this "twugelhorn" design for a while and today I am taking some big decisions about the proportions and design to balance this instrument out perfectly.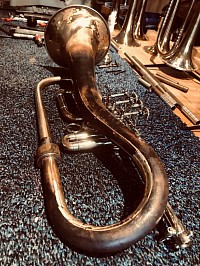 The twugelhorn design is taking shape!
This is a first "fitting" of a twugelhorn bell. If you look closely you can see the long seam of my "one piece" made bells. This is an exiting project!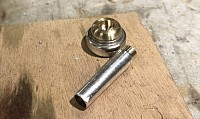 Voca-T 2.0 for Bert Lochs
Making a new voca-T for Bert Lochs.
What is a voca-T and what do you need it for? Ask Bert! 
http://www.bertlochs.com
Improving a conn vintage one C trumpet.
 I am handmaking a new receiver, better leadpipe and tuning slide sleeve for this instrument because the octaves are too far apart and there are resistance issues throughout the whole register.
An improved scherzer leadpipe
I like working on and helping with improving the playability of rotary instruments. I made an improved leadpipe for a very nice scherzer piccolo using golden ratio tapers that seem to work on nearly any instrument. I'll soon make a video of it to show the difference between the original and new improved leadpipe. To be found on my facebook page.