Martinus Geelen Trumpets
Handmade in the Netherlands
The workshop of MG Trumpets / Bec's Brassworks is located in Wijk bij Duurstede, close to "the green heart" of the Netherlands. In the workshop we work with the two of us: Mark (Martinus) Geelen and Becci Carr. Mark has been working as a trumpet technician for over 15 years and he works as a professional trumpet player and teacher. He plays with several ensembles like the Dutch Bach Society (see www.allofbach.com) and as a guest player with the Orchestra of the 18th century. Becci (bec's brassworks) has had an interesting carreer as a designer and seamstress working for Ted Baker and Jack Wills. Then she decided to learn goldsmithing. Becci has magic hands and a good eye for detail. Whenever there is time (in between looking after our two little boys) Becci assists with repairs, maintenance and work on historic and modern instruments.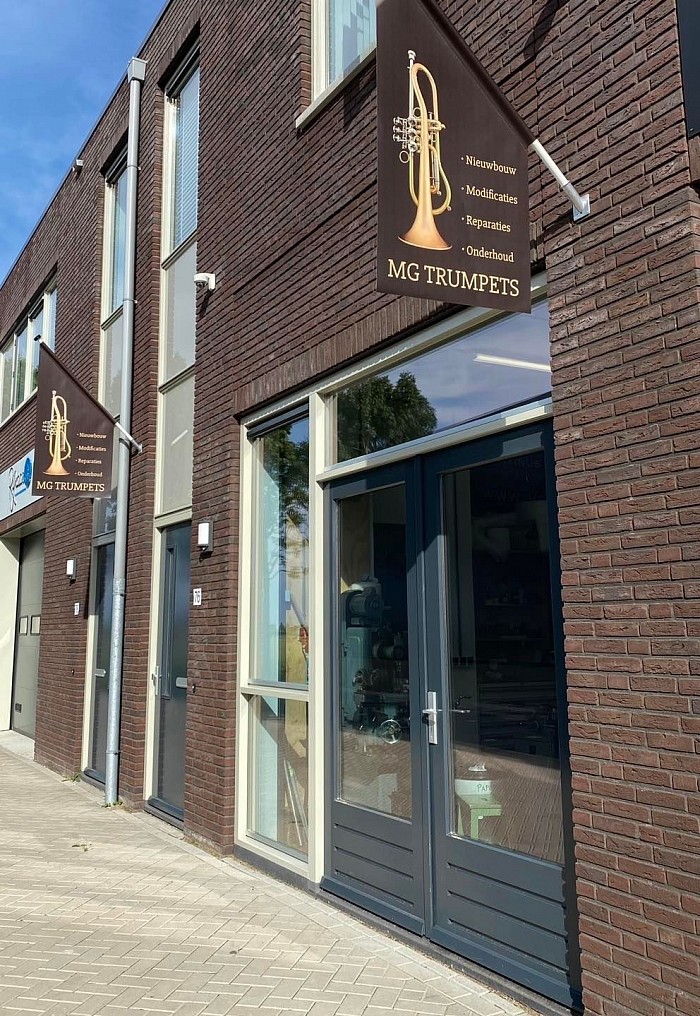 Fully Customized 
Since every player has different needs and preferences we make every instrument completely taylored. This we do for all the instruments we offer.
As a professional performing artist Mark knows how important it is that the equipment functions as an extension of musical ideas and the physical input. In the ideal situation the instrument is as little "in the way" as possible. A good matching instrument frees up the players mind and boosts the confidence. 
At the start of the custom design process we always like to discuss these preferences, past experiences with other instruments made by other makers, etc. Ideally see/hear the person play. All to achieve the best possible impression of what is needed. 
This process can lead to a design plan. And that leads to the build of a better custom trumpet. If you are interested to talk about this with me then please contact us. 
For your information
All the product photos on this website are non photoshopped, real life photos. We like to keep things real. If any editing was done then this was only to improve contrast, shadows or brightness of the photos to make them blend in better on the website.
In house part production
This little video below shows what kind of work goes into making in house parts. This is the making of some simple but important natural trumpet components. For small parts we often use the biggest machines. Not what one would expect. Every little step has to be of high quality using decent machinery because part making is a chain of events that need to end up in the best and nicest fitting parts to produce the best and nicest instruments ;).