Rotary Instruments
Rotary Valves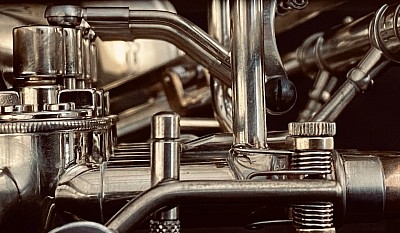 Rotary Valves are tapered cylinders that turn around their own axle in the valve casing. These are the commonly used valves on traditional orchestral instruments for playing classical/romantic repertoire and of course these have always been the traditional standard to play German and Austrian folk music. During the last ten years rotary valves have been gaining popularity in the rest of the world to play all kinds of repertoire.
We build modern, excellent playing rotary trumpets and hybrids with a striking appearance. The big advantage of the rotary valve is that all the position changes feel and sound nice and controlled/direct. Articulations are generally easier and it is easy to produce vocal sounding phrases in many different colours.
A little about bore size
Usually the average bore size on these rotary valve blocks for trumpets is around 11.0-11.2 for a trumpet/flugelhorn and even around 10.4 for a piccolo. Generally around 0.7mm smaller than perinet valves. A surprise to many that thought rotary instruments were bigger!

Because of the common configuration with a short first run (from mouthpiece into 1st valve) the smaller rotary bore can still feel bigger and more free blowing than the 11.7 perinet valves. This all depends on the chosen design, leadipes, bracing. etc.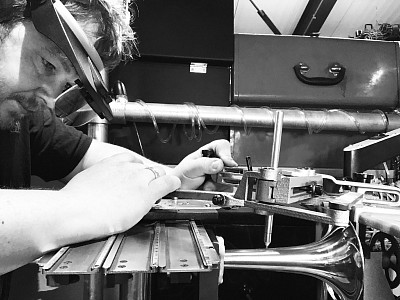 Manual Bell Engraving
Base Models
Customisable instruments with rotary valves: 
- SURAKAV hybrid top action Bb Trumpet/Cornet/Trugelhorn - NEW! -

- PRIMARIUS side action traditional orchestral C and Bb Trumpet 
- DIVINA…long form top action piccolo trumpet in Bb and A!
Please note: Previously this list also contained the Twister and Twugelhorn but these are now discontinued. I leave the info about them on this page down here but these instruments can no longer be ordered. Of course these can still be repaired, modified and maintained.

SURAKAV - Hybrid Trumpet/Cornet/Trugelhorn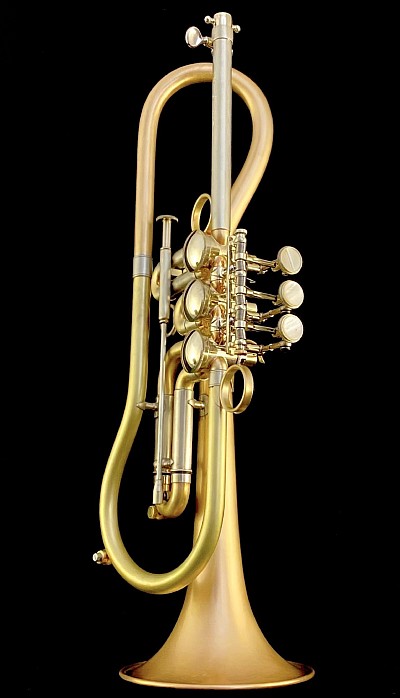 MG Trumpets - Hybrid Top Action Rotary - SURAKAV
—> more detailed info following soon. For now I hope this will do:
This hybrid instrument is built following a totally new design and new concept. It replaces both the Twister and Twugelhorn designs we used to make. 
The Surakav can be used as a trumpet using a trumpet mouthpiece and corresponding leadpipe, as a cornet using a cornet mouthpiece and leadpipe and as a light flugelhorn / ultra dark trumpet using the trugelhorn leadpipe. All the leadpipes have different inside shapes and are the best possible match to the rest of this very well balanced instrument. Nearly the whole instrument slowly "tapers out".
All three configurations really work and are not a compromise. The trumpet is thick and bright, the cornet dark and agile, and the trugelhorn has a soundcore that sounds like a flugel that can still project, unlike a common flugelhorn that is often hard to use in live situations and where the sound doesn't carry further than the stage without having to push it. The Trugelhorn sound is thick, warm and carries through beautifully. It's amazing how the bell can sound so different in each of the individual setups.
It took a long time to develop, and it took some persuasion to have the German manufacturers of the valve section make what we had in vision (they thought we had gone nuts) but it is finally here!
For more information please contact me.
Primarius - Side action Rotary Orchestral Trumpet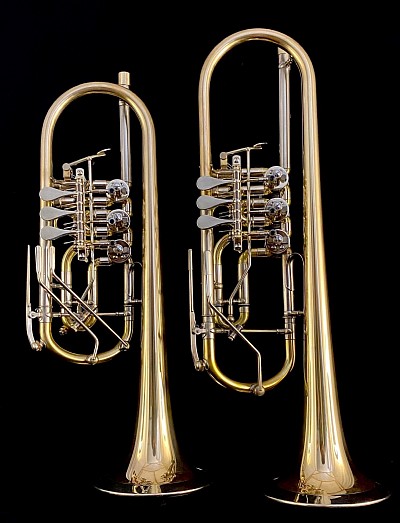 Primarius C and Bb rotary trumpet
After many years of playing, testing and measuring several different types and (well known) makes of side action rotary trumpets in the orchestra Martinus decided that it was time for us to build the "Primarius" trumpet. It is designed to modern standards and demands but with a classic balanced look.
The instrument has a bore of 11.0, 11.1 or 11.2 and comes with an exchangeable leadpipe system. Optional overblow keys and a mix of goldbrass and nickel components as shown in the pictures. The valve section is German made and can be configured with different types of triggers and water keys suited to your wishes. The instrument has a clear, thick orchestral sound without feeling heavy or stiff. Depending on the bell thickness and the garland style we choose the sound can be made brighter or darker. The intonation is excellent and the slotting in the high register is very good, also without the use of the overblow keys.
As with all of our models almost every part on this instrument can be customised to your wishes. So even if you like no garland and a fixed leadpipe, a bigger or smaller bore etc then please don't hesitate to contact us and ask for options and possibilities. We don't charge extra for advice because we love building instruments and want to see you happy with your instrument.

Twister - Top Action Rotary Trumpet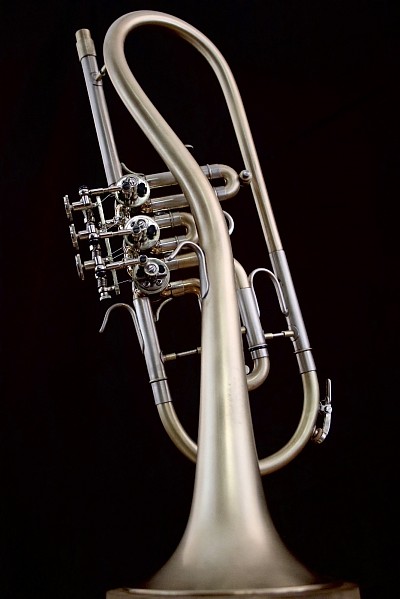 Top Action Twister Bb Trumpet - discontinued
Attention: This model is discontinued due to superiour quality of the hybrid surakav model. The information about the Twister remains on the website to show our work and for information purposes. 

The Twister trumpet is a very versatile instrument that was built completely to your preferences, just like all the other instrument models we offer. It was designed to combine the characteristics of rotary valves with the feel of a perinet style trumpet. 
The bell has multiple curves, based on a (1998) design from the French Horn builder Robert Engel. He modified a Cornet from the "Kessels Instrumentenfabriek" here in the Netherlands to have the typical double bend exposing the rotary valves for maintanance.

We re not the only instrument builders inspired by this, but we are (for as far as I am aware) the only builder that combined three curves in one bell. This created the outward "twist" in the bell. We can achieve bends like this this by using a "in house" developped, tox-free bending technique. This twisted shape facilitated a very nice setup for the valve block and a comfortable holding balance. 
Twugelhorn - Top Action Rotary Flugelhorn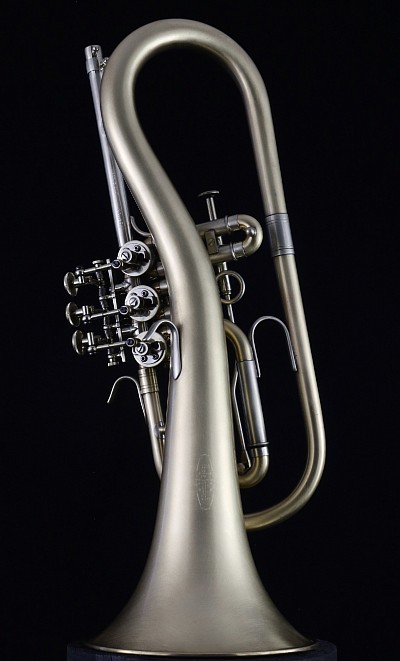 Twugelhorn - Top Action Rotary Flugelhorn - discontinued
Attention: This model is discontinued due to superiour quality of the hybrid surakav model. The information about the Twugelhorn remains on the website to show our work and for information purposes just like the discontinued twister model above.
The Twugelhorn was a result of the wish to create a flugelhorn in the style of the Twister trumpet. A nice compact wrap with wide bows and a pleasant holding balance. Producing all the pretty curves and angles is not easy but it is something we really enjoy doing.

Everything on our rotary trumpets is done by hand and therefore it is possible to fully alter the character of "the beast" to your preferences. The instrument below for example has no water keys because the client preferred to first try it without. The chosen materials, finger hook style, brace style, lead pipe shape, response, engravings, etc. are all discussed before and sometimes even during the build.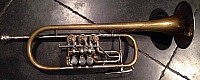 Historic Rotary C Trumpet
Historic Rotary Trumpets
We also produce "historic" rotary trumpets, often used for romantic repertoire. We can use new parts made to historic specifications or we use original / salvaged parts. Most important is that we can apply authentic techniques like making handmade tubing, bells, etc. to match original trumpets. The goal of producing a "historic" instrument is that it will play well. We can make rotary trumpets in any key/pitch. Please 
contact
 us for more information and/or questions.