Rotary Instruments
For Your Information
PHOTOS OF THE TWUGELHORN (TWISTER FLUGEL), ORCHESTRAL C TRUMPETS AND TOP ACTION PICCOLO TRUMPET WILL BE AVAILABLE SOON!
Rotary Valves
Rotary Valves are tapered cylinders that turn around their own axle in the valve casing. These are the commonly used valves on traditional orchestral instruments for playing classical/romantic repertoire. And of course these have always been the traditional standard to play German and Austrian folk music. But during the last ten years rotary valves have been gaining popularity in the rest of the world to play all kinds of repertoire.
I build modern, pretty looking and excellent playing rotary trumpets (including piccolo trumpets) and flugelhorns. The big advantage of the rotary valve is that all the position changes feel and sound nice and controlled/direct. Articulations are generally easier and it is easy to produce vocal sounding phrases in many different colours. A good example of someone who is a specialist on playing top action rotary instruments is Mr. Thomas Gansch of Mnozil Brass.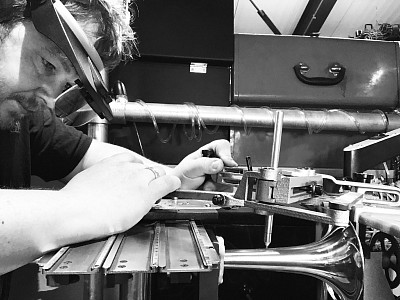 Manual Bell Engraving
A little about bore size
Usually the average bore size on these rotary valve blocks for trumpets is around 11.0-11.2 for a trumpet/flugelhorn and even around 10.4 for a piccolo. Generally around 0.7mm smaller than perinet valves. A surprise to many that thought rotary instruments were bigger!

Because of the common configuration with a short first run (from mouthpiece into 1st valve) the smaller rotary bore can still feel bigger and more free blowing than the 11.7 perinet valves. This all depends on the chosen design, leadipes, bracing. etc.
Base Models
Our Customisable instruments with rotary valves: 
- TAT (Top Action Twister) Bb Trumpet
- TAT (Top Action Twister) C Trumpet (photos soon!)
- TAF (Top Action Flugel) in Bb
- SAO (Side Action Orchestral) C Trumpet (photos soon!)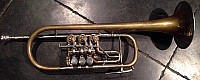 Historic Rotary C Trumpet
Historic Rotary Trumpets
We also produce "historic" rotary trumpets, often used for romantic repertoire. We can use new parts made to historic specifications or we use original / salvaged parts. Most important is that we can apply authentic techniques like making handmade tubing, bells, etc. to match original trumpets. The goal of producing a "historic" instrument is that it will play well. We can make rotary trumpets in any key/pitch. Please 
contact
 us for more information and/or questions.