Repairs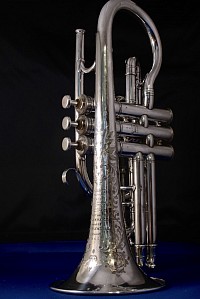 Fully restored Besson Cornet
Professional repairs
The workshop is over equipped for working on Trumpets, Cornets, Flugelhorn and other so called "small brass instruments". I can do all possible repairs needed to get your instrument in excellent condition again. Simple repairs like loosening a stuck mouthpiece or stuck slides, dent work, adding triggers, etc. but also renewing a finish like silver plating of lacquer, produce and replace (vintage) parts, etc. You can see some photos of my  work on the photopage. 
I also really like working on vintage quality instruments. Restoring those can be challenging but it is very rewarding. Thanks to my background with historical instruments and handcrafting historic parts I am well equipped to work on your vintage instruments.
What I find important
I try to avoid working on mass produced instruments from "the east". I prefer to work on instruments that have been produced under ethical work standards. I run a project that is called
"Quality for Kids"
. This is a project in which I (fully) restore quality instruments to offer students an alternative for instruments made in China of India. The Q4K instruments are usually beautiful instruments for students and (semi) professionals and a much better option than a cheaply made "Chinese" products. More info about this
Q4K
project and
occasions
are available on the respective pages.