Customer Reviews
Gathering Peoples Reviews
I am collecting reviews of customers and I will be adding them one by one. If you would like to leave a review then please use the contact page to send me an email. Don't forget to add a nice picture. 
I am not trying to "sell myself" here so if you like to leave a review please say it how it was/is. It's nice for future customers to get an idea of what I do and make, what the order process and the communication is like, etc.
Some of the reviews are in Dutch. By clicking this link google will attempt to make the reviews readable in English.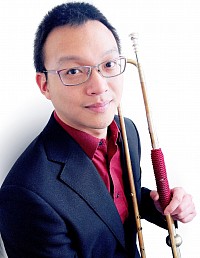 Danny Teong - Historical Trumpet Specialist
I bought a Golden Ratio Modular+ baroque trumpet from Mark in 2019. Apart from receiving a wonderful instrument, I was also impressed that Mark actively collects and listens to feedback, and is extremely patient when dealing with my many questions and concerns throughout the whole process, especially during the initial consultation (finding the right fit/options for me) and after sales service (advice and little tweaks to the instrument to help me find the optimal balance between me and the trumpet). He really understands that every player is different and that the "one size fits all" idea has no place in his work doctrine. This makes me feel that I have an instrument that is highly personalized, and made for me. I am now saving so that I can have another trumpet (or more) from Mark. He is a person and maker whom I trust with all my trumpet needs, and I recommend that anybody who wants a great trumpet to visit/contact him. You will not be disappointed!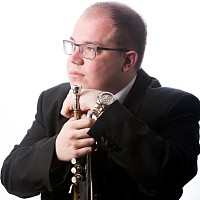 Brian Bonga - Freelance Trumpet Player (Rotterdam Philharmonic, Philharmonie Zuid NL)
In december 2019 ben ik voor het eerst in contact gekomen met Mark. Ik was niet tevreden over mijn Vincent Bach C trompet. Het instrument speelde stug en een aantal noten stemden niet goed. Na overleg met Mark heb ik mijn trompet bij hem achter gelaten en Mark de vrijbrief gegeven om mijn trompet te verbeteren. Hij hield me gaandeweg het proces op de hoogte met foto's en video's waarin hij uitlegde wat hij gedaan had en vooral waarom. Een paar dagen later was de trompet klaar. Wát een verschil. Een valve alignment en aangepaste steunen tussen leadpipe en beker net zoals op de oude Conn trompetten. Mark is een echte vakman welke ik met gerust hart reparaties en modificaties aan mijn instrumenten toevertrouw.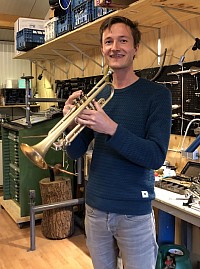 Daniel Moolenburgh - Trumpet player
This morning I went to Martinus Geelen Trumpets workshop to pick up my brand new, customized, hand made new trumpet! It's a Red Brass Monster valve section with a Gold Brass bell. And the result? 
What a beauty, and the playing quality is even better than the looks! I can't stress enough how wonderful it was working with Mark towards this magnificent result. He really takes his time to listen to your playing, to who you are, and translate that to what the ideal trumpet for you should look like. His skill to predict how the base model trumpets will react to customizations is great. He works his 
magic to create a trumpet that is truly an extension of yourself.
The playing is exquisite. The instrument is perfectly balanced and aks you to just play. Don't force anything, let the instrument work. It's very open and free flowing. The sound can be both brilliant and dark, depending on how you play it. Now it's just me that's the limitation. And this is because during the process Mark helps you to make the right choices, to get to that feeling and sound that you are after.
I've baptized the instrument 'Vesper' (after my newborn daughter) and this is what Mark beautifully engraved in the mouthpiece receiver choosing a very stylish font. 
Many, many thanks Mark Geelen! I have enjoyed every bit of this journey, and I'm certain that it doesn't end here.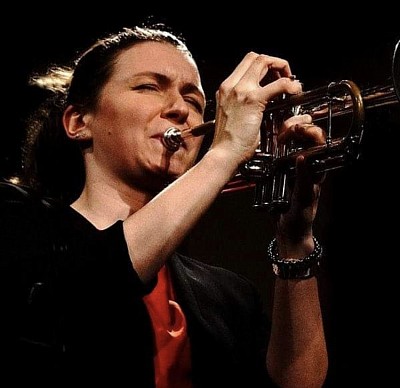 Suzan Veneman - Soloist
Via een trompetcollega ben ik in 2019 in contact gekomen met Mark. Ik was op zoek naar een adres voor een reparatie en onderhoudsbeurt voor mijn Yamaha 734, die kampte met 'red rot' en onbalans in de zuiverheid. Mark heeft mijn instrument met de juiste intuïtie en het precieze vakmanschap onder handen genomen. Met een paar vragen over waar ik tegenaan loop, mijn muzikale voorkeur en wat audiovoorbeelden is hij aan de slag gegaan. 
Het contact en feedback tijdens het reparatieproces was erg prettig en persoonlijk, doordat ik gaandeweg op de hoogte gehouden werd via video's en afbeeldingen. Dit was voor mij ook meteen een leerproces en kijkje in zijn manier van werken. 
Mijn instrument heeft uiteindelijk een prachtige custom lead-pipe en receiver gekregen, speciaal afgestemd op de sound die ik zoek. Ook heeft hij een nieuwe steun, stembuis en pinkhaak geplaatst en valve-alignment toegepast. Doordat Mark zelf professioneel trompettist is weet hij precies welke aanpassing welk effect hebben op de sound en speelwijze van het instrument. 
De eerste gespeelde tonen op het instrument na de aanpassing waren daarvan meteen een bevestiging; een verbeterde (warme) sound, balans en zuiverheid. 
Wanneer je de sound die je in je hoofd hebt kunt over brengen op het instrument, dan inspireert en prikkelt het je creativiteit en vrijheid in spel. De aanpassing bracht precies waar ik naar op zoek was. De trompet is nu zeker geen echte Yamaha meer; het is een uniek instrument geworden waar ik weer met veel plezier op speel!
Frank Rothoff - Trumpet Player
I'd been looking for a better trumpet for a long time and our roads suddenly crossed after years. We had an open conversation where I told him about my Manchesterbrass, Getzen Eterna, Conn and Adams A0 experiences. 
It immediately felt familiar and Mark could explain everything and demonstrate at the same time. After I played on the RMB I ordered the Bb trumpet right away. Now I have it in my hands it plays exactly as we discussed and I feel much more control over a wider range than ever before. The valves feel great with perfect resistance over the whole range and the slotting is amazing. The resonance is very pleasant and feels comfortable to hold and play.
During the RBM build Mark kept me informed with video conversations and was open for adjustments, such as the placement and shape of the (handmade) bracing because I wanted to 
go for a clean overall look without frills. 
I also ordered a Twister rotary trumpet. This 
Twister gives a nice warm sound and great intonation. After trying the right lead pipe I was hooked. I can now easily combine different sound colors and all remains crystal clear. 
In this Twister build Mark also gave me updates and adjustments during the build were possible. I had another idea for the trigger and this was no problem. The Twister is special to me though the RMB plays really amazing. 
The wait for both trumpets was well worth it. Mark is a professional player and his instruments only leave his workshop with his approval, which translates into the high quality which is also affordable. I admire his craftsmanship and how he is as a person. 
Mark thanks a lot for the trumpets and the experience!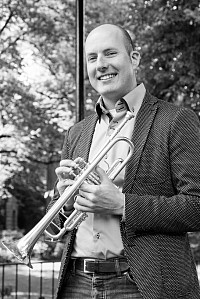 Pascal van de Velde - Trompettist / Solist
Mark heeft 2 van mijn instrumenten (Bach Stradivarius Bb en C trompet) nieuwe leadpipes geplaatst. Ik ben uiterst tevreden met het resultaat. Mark heeft me ook helpen kiezen welke leadpipes het meest geschikt voor mij, en voor mijn instrumenten waren, dat was erg fijn. Ik mocht zelfs kiezen welke pinkhaak ik het fijnst vond, ik koos voor een ring op beide trompetten. Ook was het prettig dat ik de volgende dag al meteen terecht kon. Top service!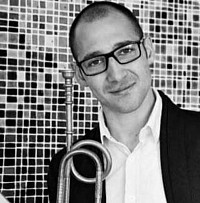 Bruno Fernandez - Historical Trumpet Specialist
I met Mark Geelen some years ago when I moved to The Netherlands. The first thing that striked me I was his ability to produce sound on a trumpet in a extremely easy way. I always keep the cleaness and brightness of his beautiful sound in mind. In my opinion it is important that a trumpetmaker has a deep knowledge of how the trumpet works and feels. Mark's abilities as a player give him the possibilty to really try to match the desires of his customers. By being a fantastic player himself, he is always willing to develop and trying to understand feedback puting himself in your place as a performer.
I had this in mind when I decided to work with Mark as a maker. I ordered a twister with him at the moment that I felt the need to improve more as a modern trumpet player. This instrument was the key to spike up my motivation. Mark was and still is always willing to hear my comments and we keep changing and improving what was already a fantastic instrument. I know he will keep these changes in mind for the next one he builds. I am very happy to collaborate closely with a dedicated player and maker that is willing to match my needs and always wants to improve.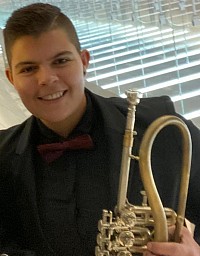 Carien Hoogstraten
Ik ken Mark al best een tijd want Mark was vroeger mijn trompetdocent, en daar heb ik veel goede herinneringen aan. Ik ben hem daarna ook blijven volgen op social media en af en toe kwam ik nog met hem in aanraking via het orkest waar ik actief ben. 
Toen mijn vader vorig jaar vertelde dat hij een Twister liet bouwen door Mark was ik dan ook erg benieuwd hoe dit instrument zou voelen en spelen. Het leek me niet echt iets voor mijn vader, maar je weet het nooit. Na een paar weken in mijn vaders bezit te zijn geweest zag ik dat dit niet het geschikte instrument voor hem was. Ik speelde zelf op dat moment op een Bach 37 en was daar redelijk oké mee maar het was niet hét instrument voor mij. 
Dus daar was mijn moment. Voorzichtig vroeg ik tijdens een studiedag of ik even op de nieuwe Twister van mijn vader mocht spelen, en ik heb het instrument sindsdien niet meer losgelaten. Mijn geluid was altijd al rond en vol, maar de transparantie ontbrak op sommige momenten. 
Met de twister lukt dit wel allemaal en krijg ik ten alle tijden de sound die ik wil. Het valt mijn medemuzikanten ook op dat ik wat anders in mijn handen heb tegenwoordig dus dat is alleen maar leuk. Ik ben erg blij met de aankoop van mijn vader en helemaal gelukkig met mijn nieuwe vriendje.
Gidon Nunes Vaz - Soloist
Mark Geelen is een van de beste trompet bouwers die ik heb leren kennen. Ik vertrouw Mark blindelings mijn instrumenten toe omdat hij de kwaliteit en oplossingen biedt die een musicus nodig heeft. Vanuit zijn ervaring als professionele trompettist kan Mark altijd controleren welke aanpassingen nodig zijn en werken. Voor een ieder die iets wilt laten bouwen of repareren raad ik vol vertrouwen Mark zijn producten en diensten aan.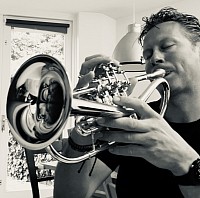 Johan van de Loo - Trompettist
Via Facebook vond ik Mark en zijn bedrijf. Ik was meteen verliefd op zijn Twister model! Na een bericht via Messenger volgde hele gesprekken en een uiteindelijke ontmoeting bij zijn werkplaats. We besloten dat Mark een Twister trompet zou gaan maken met specifieke vragen en verzoeken aan mijn kant. 
Hiermee ging Mark heerlijk gepassioneerd en professioneel mee aan de slag. Na enkele maanden was het prototype klaar en ging mijn muzikale hart nog sneller kloppen. Mark dacht mee over de juiste leadpipe, 
mondstuk, etc. en was altijd beschikbaar en bereikbaar om uitleg te geven als ik vragen had. Het resultaat is subliem. 
Met zelfs de vingerafdrukken van mijn overleden vader gegraveerd in de bovenste ventieldopjes is het instrument heel persoonlijk en ben ik er nog iedere dag blij mee en trots op. 
De kennis van Mark gecombineerd met mijn wensen maakt het instrument zo custom made als maar mogelijk. Wat voor mij persoonlijk ook een grote pre was, was de mogelijkheid tot gespreide betaling (zonder rente!). Nu is het alleen nog maar genieten van het instrument.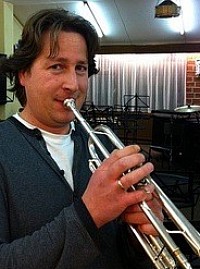 Rene Alkema - Trompetterkorps Bereden Wapens
Ik ken Mark al jaren. Heb met hem gestudeerd en samen gespeeld.  Toen ik op het idee kwam om barok trompet te gaan spelen heeft Mark er eentje voor mij gebouwd. Het is een geweldig ding geworden! Mark hield mij constant op de hoogte van het bouwen. Het is echt fantastisch om je eigen instrument zo te zien ontwikkelen.
Vorig jaar heeft Mark een Twister voor mij gebouwd. Dat is echt een geweldige trompet! Die zou iedere zelf respecterende trompettist moeten hebben.

Mark is een echte vakman en zijn liefde voor de trompet is absoluut fantastisch. 
Het instrument dat hij voor je bouwt wordt een uniek en zeker fantastische toeter!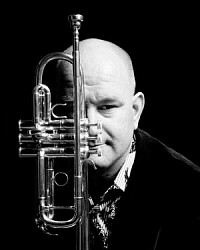 Olaf Schipper - Marinierskapel der Koninklijke Marine
Al sinds mijn studententijd ken ik Mark als een heel fijn mens en zeer getalenteerd trompettist. Erg mooi om te zien hoe hij naast het professioneel trompet spelen zijn passie voor het bouwen en repareren van trompetten verder ontwikkeld heeft. Al jaren ga ik bij Mark langs om reparaties aan mijn trompetten te laten uitvoeren. Dat doet hij met de grootste zorg omdat hij heel goed weet hoe belangrijk het is dat je een goed functionerend instrument in handen moet hebben als professional. Zelf ben ik altijd heel kritisch op mijn instrumentarium. De instrumenten moeten direct aanspreken, goed van klank en vooral ook zuiver zijn. Al deze zaken hebben met elkaar te maken daarom heb ik onlangs de ventielen van mijn Vincent Bach 37 ML laten uitlijnen door Mark. Dat heeft hij voortreffelijk gedaan waardoor ik eigenlijk een heel nieuw instrument in handen kreeg na de uitlijning. Het instrument klinkt weer open en stemt als een klok. Wat een vakmanschap!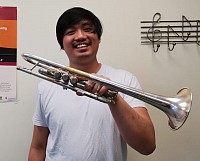 An Chun Lim - Freelance Trumpet Player
I was planning to sell my Vincent Bach C trumpet because it sounded dead and it was really hard to play because of an unpleasant resistance. After the modifications from Mark my instrument is now in perfect playing condition. My colleagues also hear that the sound is more alive on the other side of the bell and it feels much nicer to play. Much better than before the repair! 
This encouraged me I have to order a new C trumpet made by Mark to see how good it really can be. I used to work for Jun's Renaissance Brassworks in Singapore and I know how much more time and energy goes into going the extra mile. So I am happy to wait before my instrument is finished. I cannot wait to get my hands on it!