Customer Reviews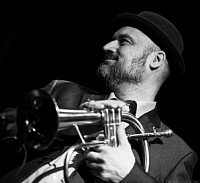 Bert Lochs - Soloist
Reparaties en Onderhoud
Nadat mijn twintig jaar oude Kanstul 1500A door Mark is nagelopen, heb ik een nóg fijnere trompet dan ik al had. Mark heeft verstand van zaken en weet door zijn oog en oor voor detail juist de kleine tweaks te maken die er echt toe doen Topjob!
Bert Lochs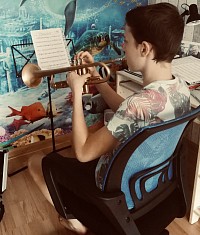 Mark Pieterse - Father of Talent
Our son Marvin has been having trumpet lessons from Mark for about 4 years now. We decided to consult him on buying a new trumpet for Marvin to upgrade from the one borrowed of our local Wind Band. Mark came up with the idea to build a custom made trumpet for Marvin (the Marvin I). As a nice addition to this an artist friend of ours designed Marvin's own personal logo which Mark has meticulously engraved on the trumpet's bell.
Mark brought in a lot of ideas and based on his knowledge he also advised us what materials to use for all the individual parts, working around a set budget. He had a few sample/shop-instruments so we could hear in which direction the sound would go before the build had started. Marvin also preferred a matte looking trumpet so the brushed brass look was absolutely spot on. The first time we heard the sound I was literally blown away. 
So besides from being an excellent teacher Mark also is an excellent instrument builder. I wonder what more there is he can achieve as he definitely has got more than one talent.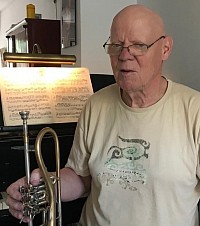 Franklin D. Kiewiet - Trumpetlover
When buying a Resno ring at Mark's place he let me try a just finished Twister trumpet. I knew immediately that this was what I had been looking for. Open feel with a lot of sound and at the same time one has to back off, I believe they call that "hot air". Fortunately it's not a lightweight horn (it's 1055 gramme, just a little bit more than my standard weight Yamaha 6345) so it gives some solid feel, but still is very responsive.
It's certainly a very efficient horn. I already did find out that I liked the rotary valves and their way of separating the tones, (some time ago I bought a German Miraphone drehventil flügelhorn). But an important reason to order this horn was my trust in the craftmanship of Mark and the appearance of his workshop. And one only has to pay for the product, not for an expensive retailer!
Yes, I had to wait eight months to receive this beautiful piece of art and craftmanship. It plays very easy with great resonance and intonation and it has that nice full bodied (some will call it dark) but still very resonating sound.
Mine has a gold brass M bell, a changeable-leadpipe system and hooks and spitting valves of my choice. If you like to see more pictures of it: most of the pictures of the Twister trumpet on this website are pictures of my horn. 
Thanks Mark.