Customer Reviews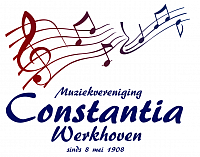 Muziekvereniging Constantia Werkhoven
Wij hebben sinds 2017 de kopersectie van ons fanfareorkest in onderhoud bij Mark Geelen. Met grote deskundigheid houdt hij ons instrumentarium in goede conditie.
Mark is een bevlogen vakman met veel liefde voor het blaasinstrument. Kennis en kunde gecombineerd met een grote dosis flexibiliteit zijn kenmerkend voor hem en voor ons van grote waarde.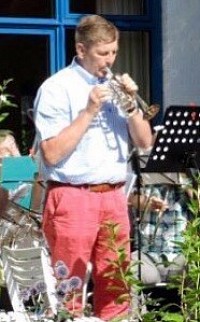 Cees Hazenberg - Tandarts / Trompettist
Nadat mijn vergulde trompet danig beschadigd was heeft de bijzonder sympathieke Mark die keurig (vooral ook ook wat het verguldsel betreft) gerepareerd. De trompet die nog niet zo oud was oogt nu weer als nieuw. De ventielen die voorheen minder soepel liepen zijn weer soepel en werden digitaal uitgelijnd. Het geluid is daardoor meer in de kern te produceren met een mooi helder timbre.

Mark bouwt in zeer goed overleg met enthousiaste uitleg en is ook nog eens heel vriendelijk. Hij produceert ook fantastische natuurtrompetten. Prima zaak door een eerlijk en oprecht vakman. Ik wil graag de zaak van Mark aanraden.

Hans Zwakman - Trumpet Player
Ik bezit een Selmer Piccolo uit 1976. Door de tand des tijds zag het instrument er niet meer mooi uit en speelde het niet lekker meer. Het zilver was slecht, de ventielen versleten, enz. Dus ging ik naar Mark met de vraag: "Zie jij kans dit instrument naar vrijwel nieuwstaat te restaureren?". Mark keek er naar, verzonk in enig gepeins en kwam met de conclusie: "Ja, dat kan"!
Er zouden vier acties moeten worden losgelaten op dit verrukkelijke toetertje. Ten eerste in-en uitwendig chemisch schoonmaken en slechte plekken in het materiaal bijwerken. Ten tweede opnieuw verzilveren en ten derde nieuwe ventielen laten maken. Als vierde en laatste stap zou hij twee nieuwe leadpipes maken.

Een belangrijk aspect waren de kosten, die moesten toch wel in de hand worden gehouden. Mark kwam met een prijsvoorstel dat goed overeenkwam met het beschikbare budget en ook de tijd die de hele operatie in beslag zou nemen was ook redelijk.
Verwachtingsvol ging ik zonder mijn toetertje naar huis om de verwachte vier weken die het werk in beslag zou nemen uit te zitten. Maar dat werd (vanwege post corona problemen bij het galvanisatie bedrijf) wat langer. Wat er echter terug kwam was fenomenaal. Glanzend en wel lag mijn piccolootje op de werkbank van Mark. In de tussentijd had Mark ook de leadpipes gemaakt en was de restauratie klaar. Het resultaat: ronduit geweldig! Klank? Verrukkelijk! Ventielen lopen als een tierelier. Hij kan weer jaren mee. Een genot om op te spelen.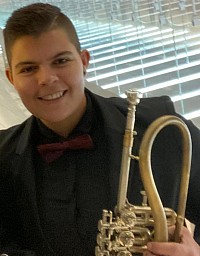 Carien Hoogstraten
Ik ken Mark al best een tijd want Mark was vroeger mijn trompetdocent, en daar heb ik veel goede herinneringen aan. Ik ben hem daarna ook blijven volgen op social media en af en toe kwam ik nog met hem in aanraking via het orkest waar ik actief ben. 
Toen mijn vader vorig jaar vertelde dat hij een Twister liet bouwen door Mark was ik dan ook erg benieuwd hoe dit instrument zou voelen en spelen. Het leek me niet echt iets voor mijn vader, maar je weet het nooit. Na een paar weken in mijn vaders bezit te zijn geweest zag ik dat dit niet het geschikte instrument voor hem was. Ik speelde zelf op dat moment op een Bach 37 en was daar redelijk oké mee maar het was niet hét instrument voor mij. 
Dus daar was mijn moment. Voorzichtig vroeg ik tijdens een studiedag of ik even op de nieuwe Twister van mijn vader mocht spelen, en ik heb het instrument sindsdien niet meer losgelaten. Mijn geluid was altijd al rond en vol, maar de transparantie ontbrak op sommige momenten. 
Met de twister lukt dit wel allemaal en krijg ik ten alle tijden de sound die ik wil. Het valt mijn medemuzikanten ook op dat ik wat anders in mijn handen heb tegenwoordig dus dat is alleen maar leuk. Ik ben erg blij met de aankoop van mijn vader en helemaal gelukkig met mijn nieuwe vriendje.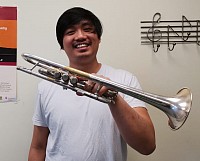 An Chun Lim - Freelance Trumpet Player
I was planning to sell my Vincent Bach C trumpet because it sounded dead and it was really hard to play because of an unpleasant resistance. After the modifications from Mark my instrument is now in perfect playing condition. My colleagues also hear that the sound is more alive on the other side of the bell and it feels much nicer to play. Much better than before the repair! 
This encouraged me I have to order a new C trumpet made by Mark to see how good it really can be. I used to work for Jun's Renaissance Brassworks in Singapore and I know how much more time and energy goes into going the extra mile. So I am happy to wait before my instrument is finished. I cannot wait to get my hands on it!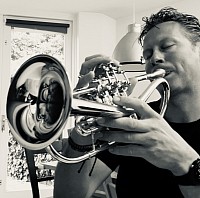 Johan van de Loo - Trompettist
Via Facebook vond ik Mark en zijn bedrijf. Ik was meteen verliefd op zijn Twister model! Na een bericht via Messenger volgde hele gesprekken en een uiteindelijke ontmoeting bij zijn werkplaats. We besloten dat Mark een Twister trompet zou gaan maken met specifieke vragen en verzoeken aan mijn kant. 
Hiermee ging Mark heerlijk gepassioneerd en professioneel mee aan de slag. Na enkele maanden was het prototype klaar en ging mijn muzikale hart nog sneller kloppen. Mark dacht mee over de juiste leadpipe, 
mondstuk, etc. en was altijd beschikbaar en bereikbaar om uitleg te geven als ik vragen had. Het resultaat is subliem. 
Met zelfs de vingerafdrukken van mijn overleden vader gegraveerd in de bovenste ventieldopjes is het instrument heel persoonlijk en ben ik er nog iedere dag blij mee en trots op. 
De kennis van Mark gecombineerd met mijn wensen maakt het instrument zo custom made als maar mogelijk. Wat voor mij persoonlijk ook een grote pre was, was de mogelijkheid tot gespreide betaling (zonder rente!). Nu is het alleen nog maar genieten van het instrument. 
Frank Rothoff - Trumpet Player
I'd been looking for a better trumpet for a long time and our roads suddenly crossed after years. We had an open conversation where I told him about my Manchesterbrass, Getzen Eterna, Conn and Adams A0 experiences. 
It immediately felt familiar and Mark could explain everything and demonstrate at the same time. After I played on the RMB I ordered the Bb trumpet right away. Now I have it in my hands it plays exactly as we discussed and I feel much more control over a wider range than ever before. The valves feel great with perfect resistance over the whole range and the slotting is amazing. The resonance is very pleasant and feels comfortable to hold and play.
During the RBM build Mark kept me informed with video conversations and was open for adjustments, such as the placement and shape of the (handmade) bracing because I wanted to 
go for a clean overall look without frills. 
I also ordered a Twister rotary trumpet. This 
Twister gives a nice warm sound and great intonation. After trying the right lead pipe I was hooked. I can now easily combine different sound colors and all remains crystal clear. 
In this Twister build Mark also gave me updates and adjustments during the build were possible. I had another idea for the trigger and this was no problem. The Twister is special to me though the RMB plays really amazing. 
The wait for both trumpets was well worth it. Mark is a professional player and his instruments only leave his workshop with his approval, which translates into the high quality which is also affordable. I admire his craftsmanship and how he is as a person. 
Mark thanks a lot for the trumpets and the experience!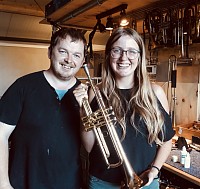 Louise Beuze - MG Trumpets
Louise Beuze
Ik heb ongeveer 8 jaar lang les gehad van Mark, en kreeg als speciaal cadeau van mijn ouders een customised trompet. Tijdens het proces kwam ik er pas achter hoeveel keuzes er zijn bij het maken van een trompet. Van de waterkleppen tot de receiver, ik kon ontzettend veel zelf kiezen. Ook gaf Mark mij de optie om mijn naam te laten graveren op de receiver, wat ik een leuk idee vond. Mark liet mij alle verschillende keuzes zien en gebruikte zijn vakkennis om mij tips te geven. Door regelmatig contact over mijn wensen en de mate waarin Mark mij betrok bij het proces, heb ik nu de trompet die ik altijd al wilde hebben.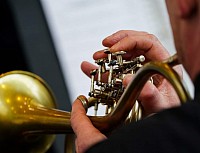 Rogier van Ganzewinkel - Trompettist
Ik ken Mark al jaren als trompetdocent van leerlingen uit orkesten waar ik bij speel. 
Na een tip van Mark Busscher jaren geleden met de Resno Ringen van MG gaan spelen, en nog steeds. 
Na jaren op Bach 25, 37, yamaha trompetten te hebben gespeeld zocht ik een ander geluid.
Bij Mark afgesproken om een twister te proberen, dit met het gevolg dat ik een twister voor mezelf besteld heb. 
De twister is voor mij een trompet die veel meer aansluit op de andere instrumenten waardoor ik makkelijker switch, er zijn concerten waar ik bugel, cornet en trompet speel.
Daarbij een groter geluid, meer mogelijkheden om te blenden in secties, en een geweldige actie door de cilinders. 
Voor mij een zeer motiverende aankoop die ik ieder die met soortgelijke issues, zeker kan aanbevelen. Ga Testen, voelen, beleven!.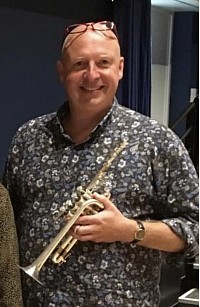 Remco Nieuwenhuis
When I had finally taken the step to buy a natural trumpet, I turned to Mark for lessons. It turned out he does a lot more than teach (and play). He customized a mouthpiece for me, made an extra venthole yard and tweaked the ones I had (bought elsewhere) for better tuning and intonation. He also serviced my modern trumpets, inside and out, making them look and run like new. And of course he teaches – makes you feel comfortable with the instrument, helps you work around its idiosyncrasies, explains how to translate what's on paper into something that sounds good. This is a guy you can turn to for pretty much anything and everything to do with your trumpets and playing.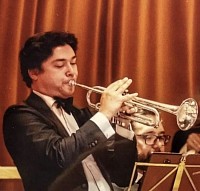 Stefan Bouma - Amsterdam Brass
Sinds drie jaar breng ik al mijn trompetten en bugel bij Mark voor onderhoud en kleine reparaties. Ik sta altijd weer versteld met hoeveel vakmanschap en passie hij aan de gang gaat met mijn instrumenten. Mark vertelt altijd vol overgave over de technieken die hij gebruikt en geeft ook allerlei handige tips over onderhoud en het trompetistenvak in het algemeen. Ik kan zijn vakmanschap van harte aanbevelen voor alle trompettisten die hun hobby en instrumenten serieus neemt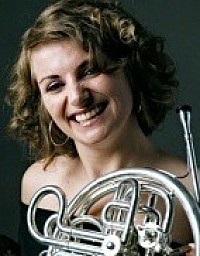 Anke van der Hoek - Trompetterkorps Bereden Wapens
Mark heeft voor mij een oude kapotte natuurhoorn opgeknapt en dat heeft hij zo mooi gedaan dat hij weer helemaal mooi en bruikbaar is. Dank je wel Mark!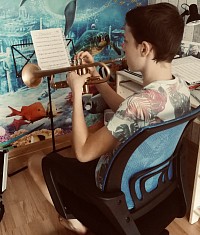 Mark Pieterse - Father of Talent
Our son Marvin has been having trumpet lessons from Mark for about 4 years now. We decided to consult him on buying a new trumpet for Marvin to upgrade from the one borrowed of our local Wind Band. Mark came up with the idea to build a custom made trumpet for Marvin (the Marvin I). As a nice addition to this an artist friend of ours designed Marvin's own personal logo which Mark has meticulously engraved on the trumpet's bell.
Mark brought in a lot of ideas and based on his knowledge he also advised us what materials to use for all the individual parts, working around a set budget. He had a few sample/shop-instruments so we could hear in which direction the sound would go before the build had started. Marvin also preferred a matte looking trumpet so the brushed brass look was absolutely spot on. The first time we heard the sound I was literally blown away. 
So besides from being an excellent teacher Mark also is an excellent instrument builder. I wonder what more there is he can achieve as he definitely has got more than one talent.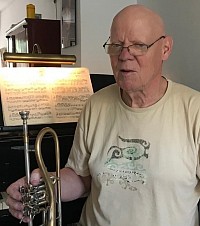 Franklin D. Kiewiet - Trumpetlover
When buying a Resno ring at Mark's place he let me try a just finished Twister trumpet. I knew immediately that this was what I had been looking for. Open feel with a lot of sound and at the same time one has to back off, I believe they call that "hot air". Fortunately it's not a lightweight horn (it's 1055 gramme, just a little bit more than my standard weight Yamaha 6345) so it gives some solid feel, but still is very responsive.
It's certainly a very efficient horn. I already did find out that I liked the rotary valves and their way of separating the tones, (some time ago I bought a German Miraphone drehventil flügelhorn). But an important reason to order this horn was my trust in the craftmanship of Mark and the appearance of his workshop. And one only has to pay for the product, not for an expensive retailer!
Yes, I had to wait eight months to receive this beautiful piece of art and craftmanship. It plays very easy with great resonance and intonation and it has that nice full bodied (some will call it dark) but still very resonating sound.
Mine has a gold brass M bell, a changeable-leadpipe system and hooks and spitting valves of my choice. If you like to see more pictures of it: most of the pictures of the Twister trumpet on this website are pictures of my horn. 
Thanks Mark.