Modifications
Modifications
Sometimes a customer asks for a little adjustment or a request for a different finger hook or water key. This is something we do daily. But we also have completely rebuilt a loved instrument with more modern bracing, custom leadpipes, etc. All these changes, including ergonomic changes for people with a disability we call modifications.
New Valves!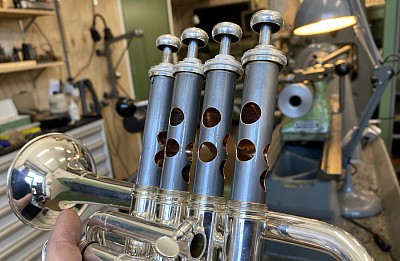 New valve bottoms with the original tops
If your instrument has leaky, damaged or worn valves we can help you. We have partnered up with a colleague in Austria who only makes high precision custom valves. We closely work together to give the engine of your trumpet a new life. We can make these valves out of Monel or Stainless steel and we can do it for any perinet instrument. The stems, spring barrels, top caps and finger buttons of the original valves are re-used. Your instrument will not look any different than before but it will play like it has never done before.
There are numeral advantages of new valves over traditional (nickel plate) valve jobs. New valves are high precision measured to the particular valve block, aligning the porting perfectly. When new valves are made and fitted there is no nickel plating involved that could flake off again and both the valves and inner valve casing can be made straight as an arrow to make the tolerance and fit optimal for modern synthetic lubricants to guarantee a good oil film from holding up. The last advantage is costs. New valves are almost half the price of newly plated ones.
In our opinion this is the absolute best way to solve leaky valve issues. Please contact us for up to date prices and more information.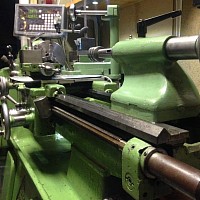 High precision machinery
All to match your creativity
Most common modifications are adding a trigger, swap bad amado waterkeys (getzen style) with their modern equivalents and leadpipe replacements. But we love doing the more advanced jobs too. Replacing the complete valve block or bell, a miniball conversion on antique rotary instrument, adding a quarter tone valve, or refinishing an instrument is very rewarding work.

Some examples of part making process and modifications on video:
Almost anything is possible. If you have an idea of what you like to achieve, we are very likely able to make that possible. If you have specific questions about modifications please contact me with your enquiry.