The big workshop move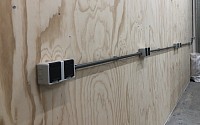 Day 25: Warm water up and downstairs and more 220v sockets
Today Lex Vollebregt was here again (thank you Lex) to do the last jobs on the water and taps. All done! Later in the day I worked on some lights and the 230v sockets downstairs. Tomorrow I'm doing a similar thing upstairs. And I am still searching for a good engineered floor!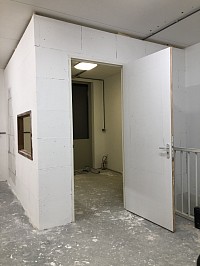 Day 24: More paintwork finished
Today I finished the paintwork on the walls of the rooms upstairs. Because of covid I am working really alone. Work progress feels slow but in the end of the day it is paying off. Thinking about options for the floor because that job is coming closer and I have not yet found a good durable floor yet within the budget.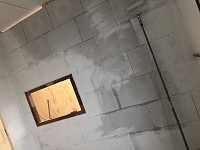 Day 23: Primer on the wall (great name for a song?)
Primer the last few walls of the building today! When I was halfways I ran out of primer. But we have the lockdown here. The shops are closed. Luckily my workshop neighbour helped to find a solution and I got it all done in the evening.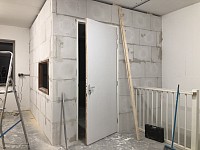 Day 22: More wall preparations and all doors are in!
Day 22: In the morning I managed to prepare the walls of the polish room and office upstairs for painting. But I was feeling not good enough to carry on. A total lockdown due to many covid19 infections was announced in the afternoon starting from tomorrow and that made me rush to the store to get more supplies and materials to keep myself going. That's going to be a challenge. In the evenening I worked with Jorick (blijenberg bouw en timmerwerken) on the doors, toilet placement and wood trims for both rooms upstairs. And I finished the wall paint prep! All rooms have functioning doors now and all remaining "bare" walls are prepped for paint. Some doors still need windows but that is a concern for later..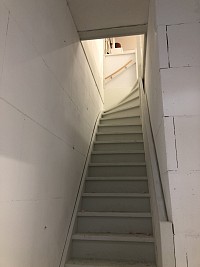 Day 20: hallway paint done!
Yesterday and today I felt very tired but today I managed to get all the wall paint applied to the hallway. The rest of the day and tomorrow I will rest!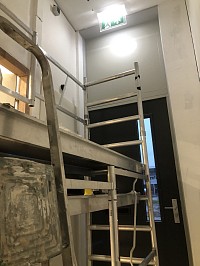 Day 19: Primer for the hallway
Cramped myself and the rolling scaffolding into this small space to roll and paint primer on the walls. It's like a real time game of tetris. Or a shuffle puzzle game called the "hobbit and the scaffolding"  I had nearly forgotten about this space. Tomorrow I do the latex top layer. And in the toilet space the tiles were put in. Slowly but surely...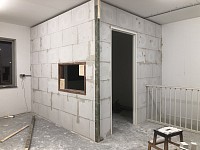 Day 18: The frame of the office/teaching room is up!
A long day but a good one. Tomorrow it's time to work on the toilet! This whole project is a great learning curve for me. And I am feeling more "fit" because I am physically working a lot. Getting used to run up nd down the stairs a lot. Looking forward to working in here, but I think it will take another month before I can pick up where I left. Quite a challenge, but the challenge is a nice one :)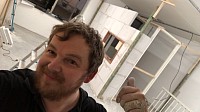 Day 17: Progress on the office!
I am not a fast builder but there is progress. I also managed to install a thermostat. The heating will gradually be turned up. We also installed a toilet yesterday. And next week the safety shutters will be installed. And there is much, much more work to be done...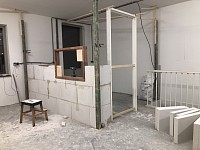 Day 16: A new space is built!
My new workshop needs a seperated space for some office work and the (trumpet) teaching work I have been doing over the last 25 years. I am building it myself. It feels great. Thank you Jorick Blijenberg (https://bbtbouw.nl) for all the hard work and helping and teaching me how to build breeze block constructions. Not long and the real builing work is done in the new space!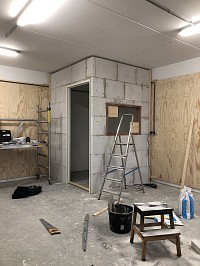 Day 15: programming the heater and finishing the polish room
It's a sunday, but my heating installation got checked over thoroughly by a specialist. Got green light. The heating can be turned on. Thank you Lex (klussenbedrijf vollebregt)! Later in the day I finished building the walls of the polish booth 😊.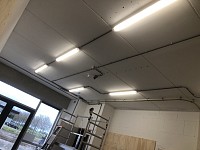 Day 13 and 14: There is Light!!
We worked really hard for two days to get the lights and electrical sockets installed. Again I got to assist wonderful professional, hardworking people. These people (Michel Middelkoop & Son, Werkhoven) have realy helped me out by taking on this last minute job in this very busy season and by letting me work with them. It all turned out exactly the way I hoped and planned. There is some more to be added by myself but this is a very solid base. With lights up it feels a bit more like a space one likes to spend time in!
Day 12: Preparing for the electric installation
Tomorrow and Friday we are working on the electric installation. Lights, sockets, switches, connection points, etc. Today I am sticking stickers all around the spaces so the electricians (and I) know what to do tomorrow.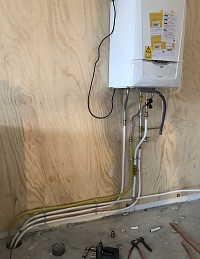 Day 11: Heating installed!
We finished installing the underfloor heating. In a few days we will have someone to program the unit so it very gradually will heat up the downstairs floor. This is called the "underfloor heating protocol" and can take up to 4-5 weeks to finish. Only after that we can add the wood flooring on top and make the actual move. But first many, many other things need doing. Starting with the electric installation from tomorrow.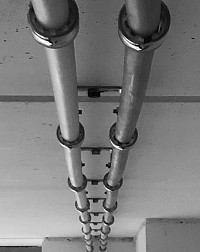 Day 10: Installing heating!
Today we have made a start on installing the heating. The plumber that is doing that with me (I merely follow instructions) is good. And very nice. For the Dutch people that read this; please look up "Klussenbedrijf Vollebregt" and add him to your address book!